All of the companies we represent across the
United States and Canada are fully operational.
Daniels Fans, division of Cincinnati Fan Company introduces ten (10) large backward curved centrifugal blower models BC 240 through B-600 in Class 2, 3, 4, & 5 construction. They are available in arrangement 1, 8, 9, & 9CB. Both steel and stainless steel construction is offered. Lead time for these blowers is 5-8 weeks depending on features.

Daniels Fans, division of Cincinnati Fan Company also introduces an expanded line of insulated plug box fans, now offering twelve (12) models in Class 2 & 3 construction. These new 40.25″, 44.50″, and 49.00″ models are offered in direct drive or belt drive in AMCA A, B, or C spark resistant construction. Mild steel, aluminum, or stainless steel construction is available.

American Warming & Ventilating has extended VSI's sales territory to include Central & South Florida.

VAW Systems provides attenuators for industrial fans and blowers and also offers a complete line of noise control products for gas turbine applications.

Techtop Industries Inc. motor supplier is now offering cooling tower motors, metric IEC motors, and IP55 severe duty motors.
VENTILATION SPECIALISTS, INC. continues to expand its ability to offer engineered turnkey-design ventilation projects which includes both mechanical and electrical installation. These projects cover general plant ventilation and process ventilation that requires ductwork and pickups for fume or particulate exhaust or collection. Recently completed projects include a phosphate and a power generation plant.
Projects currently in engineering include a roofing material plant, a woodworking company, a large screen printer, a cement plant, and a citrus juice plant.
The efficiency of fans and blowers is an important consideration which of course influences a plant's electrical costs.
Historically, centrifugal blowers are significantly more efficient than axial fans. Efficiencies of axial and centrifugal blowers can be calculated.
To determine a fan or blower static pressure efficiency, the formula is:
SE =
CFM (S.P.)
6356 (BHP)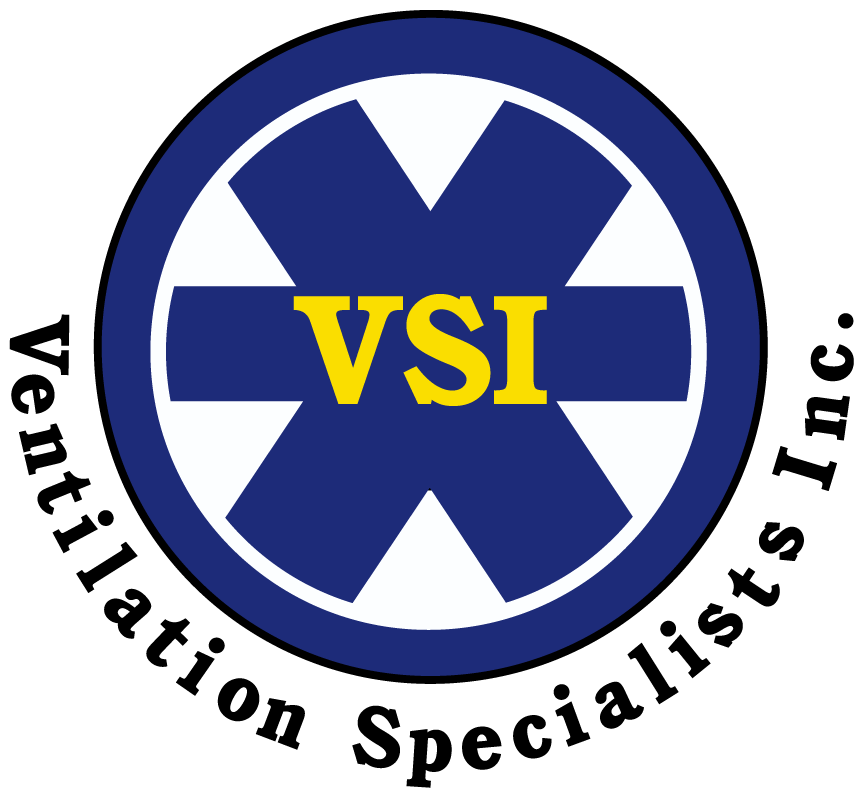 Address:
123 Ave C, SW
WINTER HAVEN, FL 33880
P.O. BOX 750
WINTER HAVEN, FL 33882